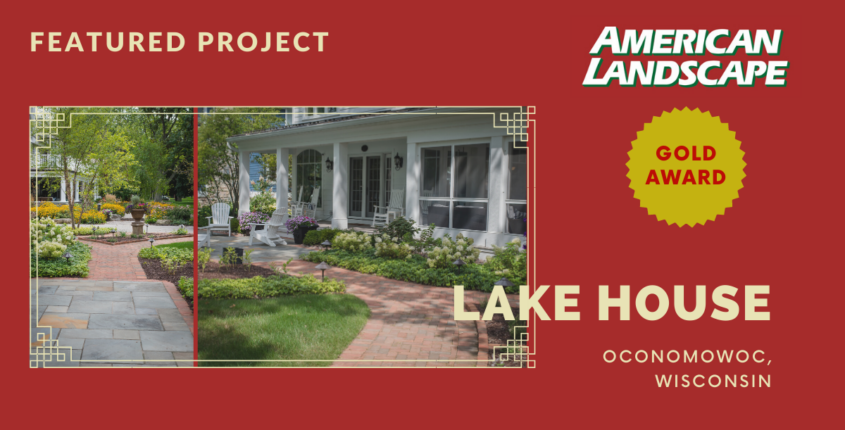 Oconomowoc Lake House – Gold Award for Excellence in Landscape Design & Construction
The Wisconsin Landscape Contractors Association awarded American Landscape a gold award for excellence for the work we did on behalf of a client on Oconomowoc Lake. This project site is located on a beautiful lakeside lot, with a well-appointed residence. The client shared with us a simple sketch that he had drawn, which provided enough insight to complete a conceptual drawing.
Delivering on Client's Wish List
Our team was committed to delivering on all the items on our client's wish list, including:
"This patio of mine needs to go and grow"
"I need a walkway up to my front door"
"I'd like to sit in my front yard, enjoy the view of the lake and maybe have a fire pit"
"I'm going to build a pizza oven"
Drainage Challenge
Existing grades were such that the front yard drained towards the residence, with no way to change that. So, this project was going to be driven by a drainage system design that needed to be figured out first, or we couldn't move forward. Fortunately, there was an on-site storm sewer that we could tap into.
Deck + Patio + Walkway
Using the existing brick wall, we could elevate and double the size of the original patio by converting it to a raised deck and establish a space for the pizza oven on deck level. A serpentine walkway was created, that moved people from the driveway to the deck and the front patio courtyard seating area concept off the front porch that was driven by the size of the root structure of the large existing oak tree.
The final plan also included low voltage lighting, plants that could tolerate shade and the re-use of brick and bluestone from his previous patio. Our team checked all the boxes for our client, resulting in a gorgeous, multi-functional outdoor space that maximizes lake views.
Are you ready to start dreaming about your own project? Get in touch with us today to learn how we can help you check all the boxes on YOUR wish list!
Related posts:
AMERICAN LANDSCAPE HONORED WITH SEVEN 2019 AWARDS OF EXCELLENCE!
DRAGONFLY FARM – JUDGES CHOICE AWARD + GOLD MEDAL WINNER FOR EXCELLENCE IN LANDSCAPE MAINTENANCE
https://amerlandscape.com/wp-content/uploads/2022/09/image.png
628
1200
American Landscape
https://amerlandscape.com/wp-content/uploads/2023/03/american-landscape-50-years-logo-300x138.png
American Landscape
2020-06-04 16:29:40
2023-05-02 20:53:48
Oconomowoc Lake House – Gold Award for Excellence in Landscape Design & Construction