4 Main Benefits Of Stump Grinding
Tree stumps can be unsightly, annoying, and at times, dangerous. If you have a stump on your property from a cut, dead, or fallen tree, stump grinding eliminates the unwanted stump. That's what makes stump removal an essential element of good tree care and yard maintenance.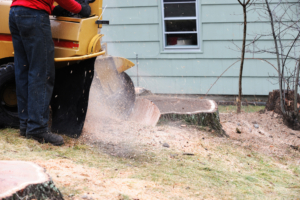 Read on to learn the four main benefits of tree stump grinding.
1. Improve Aesthetics and Regain Space
Tree stumps can make an otherwise tidy, well-kept yard look neglected. Removing stumps can instantly improve the look of your property. This increases the overall property value and its visual appeal.
In addition to aesthetics, space is also an important issue, especially if your yard is smaller. A tree stump can take up space in an area that could be used for other yard design elements. Stump grinding gives you that space back, both above and below ground.
2. Avoid Accidents and Inconvenience
While a tree stump might not seem dangerous, it can be a major trip hazard for anyone. This is especially an issue with senior citizens and small children.
Removing a stump is not only a necessary safety measure for yourself and your family, it also removes the possibility of a stump-related accident that could cost you a lot of money. If someone is hurt on your property, you could be liable for any injuries they suffer.
Inconvenience
Tree stumps can be a real pain when you're mowing. Having to carefully maneuver around them gets old, and, if you accidentally hit one, you could damage your mowing equipment. Having the stump ground and removed ensures that you'll have no stump-related injuries or hassles.
3. Protect Against Disease and Pests
Tree stumps on your property might look harmless, but they could be harboring many undesirable pests or diseases. Insects and other pests can take up residence in these stumps. Not having stumps removed gives those insects plenty of opportunities to settle in and multiply.
Disease
These stumps are often from trees that died of disease. Removing the stump can prevent the spread of tree diseases from the stump to other healthy trees in the vicinity.
4. Stop Stump Sprouting
If you've paid for tree removal, you don't want to have to deal with that tree again. Stumps that are left behind can quickly begin to sprout and regrow. This regrowth eventually will have to be addressed with another costly tree removal attempt.
Stump grinding ensures that this doesn't happen. Both the stump and the roots below are destroyed and removed so that regrowth won't become an issue. In this way, deciding to have your stump ground when you cut down the tree can save you money in the long run. It takes care of the issue the first time, eliminating the chance for sprouting.
Stump Grinding Is Always a Good Decision
Whether you aim to improve the look of your property, prevent injuries, protect against pests and disease, or stop regrowth, stump grinding is a must.
We offer expert tree care and landscaping services in Milwaukee and Southeast Wisconsin. For solutions to your landscaping and arboreal services, contact us through our website or give us a call at (262) 252-4260.
https://amerlandscape.com/wp-content/uploads/2022/09/AdobeStock_96204888-1.jpeg
1330
2000
American Landscape
https://amerlandscape.com/wp-content/uploads/2023/03/american-landscape-50-years-logo-300x138.png
American Landscape
2018-02-15 10:48:58
2022-11-22 00:45:15
4 Main Benefits Of Stump Grinding