Why You Should Avoid Mulch Volcanoes
'Tis the season to get out your shovels and rakes and spread some mulch in your garden beds and around trees. Mulch has numerous benefits to your landscape, but beware! In this case, there can definitely be too much of a good thing and it can be deadly for your trees.
Benefits of Mulch
First, let's talk about the benefits to establishing a layer of mulch around your trees:
eliminates potential injuries from mowers and string-trimmers 

separates major root zone areas from nearby sod areas, and 

breaks down, enriching the soil and providing nutrients to tree root

moderates soil temperatures

decreases erosion

aids in drainage
Issues with Mulch Volcanoes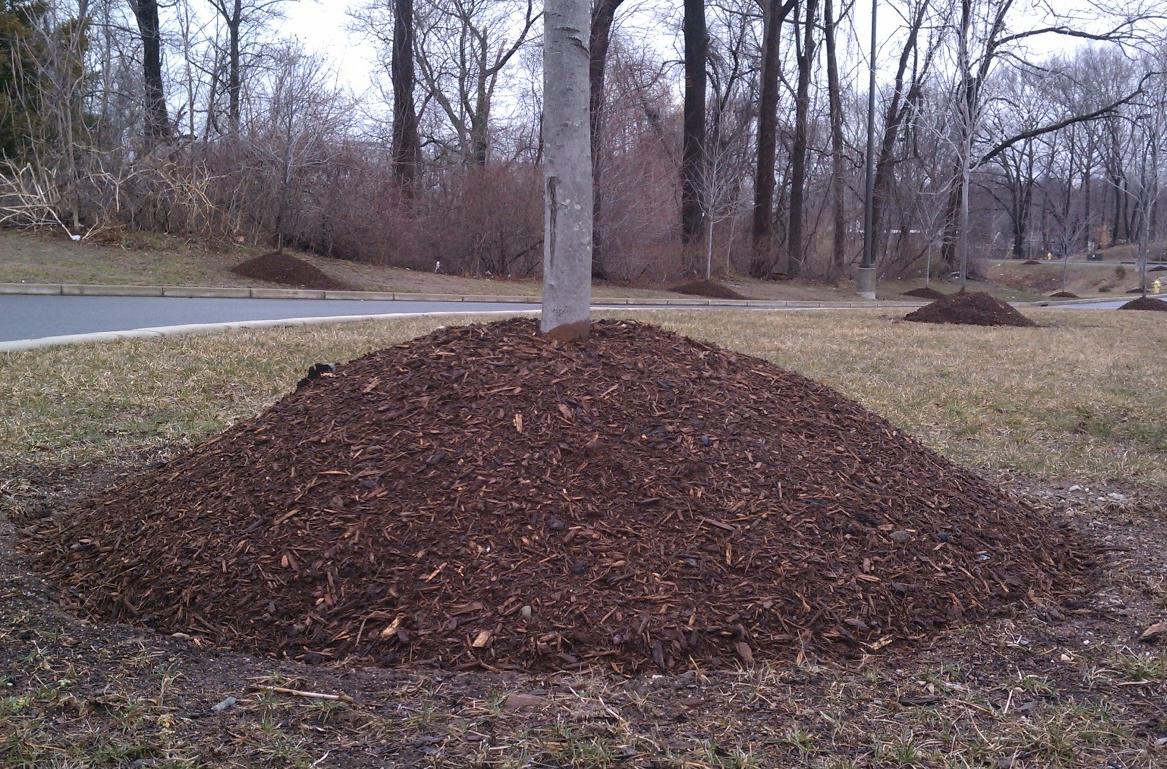 Mulch volcanoes are deep piles of mulch heaped around the base of trees and shrubs. Piling mulch against a tree trunk harms the tree in the following ways:
holds moisture against the trunk and roots of the tree, leading to fungal diseases and rot.

harbors insects, increasing pest disease; and can also 

harbor small rodents who chew on tree bark
Another issue is that mulch volcanoes encourage roots to grow laterally into the mulch. This causes roots to girdle the trunk, which weakens the tree's support system. 
Correct Way to Mulch 
Apply mulch to a depth of 2-3 inches around a tree, leaving a space of 12-16" away from the base of the trunk clear of mulch. 

Ensure the mulch is spread level with the root flare (the point at the base of a tree trunk where the trunk expands and transitions into the root system)

Extend mulch area to the edge of the tree canopy, or at least several feet from trunk.

If mulch is piled against the tree trunk, rake away from the center.

Rake up compacted mulch to keep air and water flowing and reaching the roots.

In landscape beds containing multiple trees surrounded by sod, join the trees in one mulched bed rather than multiple "circles" of beds to create a more efficient design.
We have a team of certified arborists who can help ensure your trees are properly cared for and last for years. We'd love to help you preserve your valuable investment. Contact us today for a consultation.
https://amerlandscape.com/wp-content/uploads/2022/09/tree-care-tip.png
628
1200
American Landscape
https://amerlandscape.com/wp-content/uploads/2023/03/american-landscape-50-years-logo-300x138.png
American Landscape
2020-04-10 21:53:26
2023-05-02 20:53:48
Why You Should Avoid Mulch Volcanoes