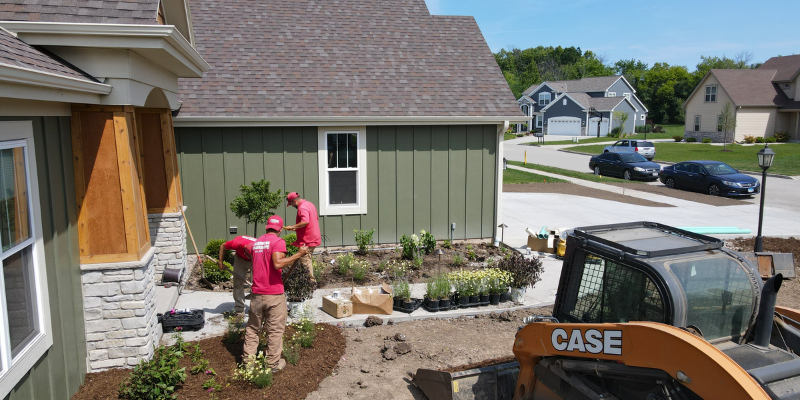 What to Ask When Looking for Landscape Companies in Milwaukee
Hiring a professional landscaping company
is the way to go to create a stunning outdoor space that perfectly blends with your home and reflects your personality. If you're in Milwaukee, Wisconsin, you'll find plenty of landscape companies to choose from. However, not all landscape companies in Milwaukee are created equal.
Your home is your biggest investment, and landscaping is a significant part of the equation. It's a place where you can relax and recharge inside and out. It's where you'll spend most of your downtime, enjoying time with friends and raising a family.
Building an outdoor retreat is a great way to enjoy the beauty of nature and create a space that is uniquely your own. Finding a landscaping company that meets your outdoor needs is up to you. Researching your options and asking the right questions will help you find the right landscaping partner to bring your outdoor dream space to life.
Before taking that first step in your investment, you'll want to consider the following factors and make sure you're asking the right questions.
Let's get started.
5 Things to Consider Before Hiring a Landscape Company in Milwaukee
When researching different landscape companies in Milwaukee, you must closely examine each company to determine who best meets your needs. You want to find a well-established company with a strong reputation for providing quality work. Here are five important things to consider when looking for landscape companies in Milwaukee, WI:
1. Your Budget
Building an outdoor retreat is a rewarding experience that will provide you and your family with years of enjoyment. However, it's important to be realistic about the cost of your project and find a company that can work within your budget.
The cost of your landscaping is influenced by many factors, including:
Site conditions: including the size of your property, the topography of your property, and the condition of your soil.
Materials needed: Involves selecting the plants and materials that best suit your needs, determining the extent of desired stonework, and considering incorporating water features into your landscaping plans.
Per-service or per-hour charges: landscaping companies charge different rates for their services, so be sure to ask about these charges before hiring a landscaper.
Don't be afraid to ask for a detailed breakdown of the costs when reviewing quotes. This will help you understand the costs associated with your project and whether or not they fit within your ideal budget.
2. The Type of Landscaping Services You Need
Do you need help with lawn maintenance, tree trimming, or landscape design? Before diving into the online abyss and beginning your research, ensure that you have a comprehensive list of requirements for your landscaper and their team/services.
By conducting thorough research, you can ensure that you select a contractor who can meet your specific requirements. This will not only save you time and effort, but also enable contractors to provide you with accurate quotes for their services.
3. The Landscaper's Reputation
Doing your due diligence and researching the landscaping company's reputation before hiring them can help you avoid potential issues down the road. Unfortunately, there are many contractors out there that are unscrupulous and/or unqualified. Checking their reputation before hiring them can help you avoid issues such as poor workmanship, unprofessional conduct, and/or poor customer service. A good reputation is a sign of a reliable and trustworthy company.
So, how can you research a company`s reputation? Things you can look for include:
Their website and their portfolio of work
Reviews from sites like Angie's List, Google Business Profile, and Facebook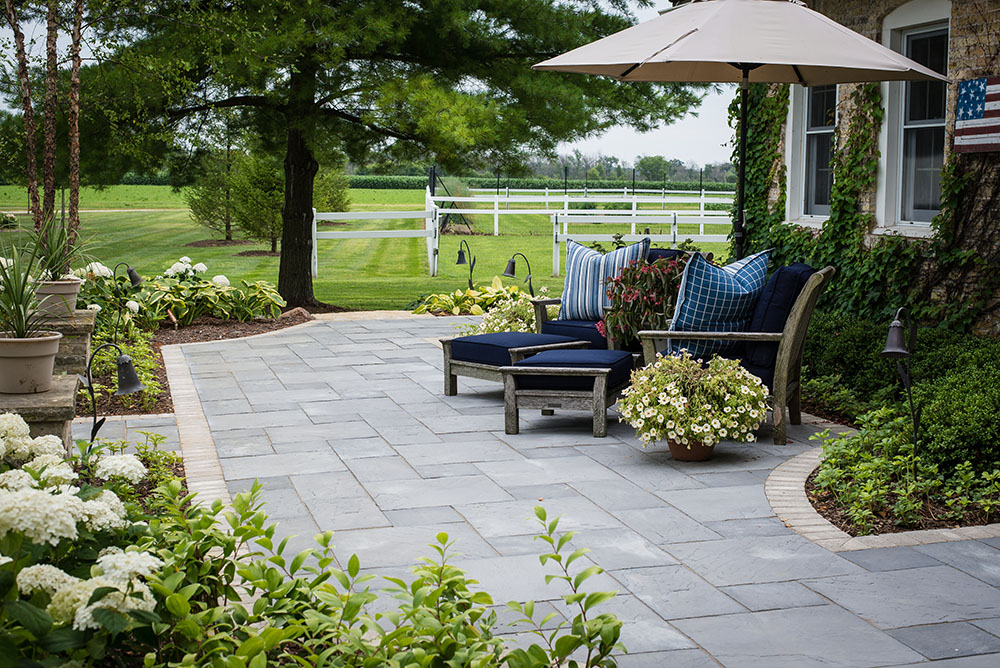 Upscale Rural Farmhouse: 2020 WLCA Gold Award of Excellence for Residential Landscape Design & Construction
4. Their Experience
Look for a company that has been in business for several years and has experience working on projects similar to yours. An experienced team will be better equipped to handle unexpected issues and ensure that your project is completed on time and within budget.
5. Insurance
Finally, make sure that any landscaping company you hire is properly insured. This will protect you in the event of any accidents or damage that may occur during the project. A reputable landscaping company will happily provide proof of their insurance.
5 Questions to Ask When Looking for Landscape Companies in Milwaukee
Knowing what to look for in a landscape company can help you make an informed decision and get the best service possible. Below are five of the must-answer questions you'll want to have ready when interviewing potential landscape companies:
1. What Landscaping Services Do You Offer?
Understanding the full range of services provided by the landscaping company you are considering is essential. Specialized services may vary from one Landscaping company to the next. While one company may focus specifically on landscaping or hardscaping, the other may offer a broader range of services. Make sure that the company you choose can provide the specific services you require for your project.
2. Can You Provide References?
A reputable landscaping company should be willing to provide references from previous clients. These references can be valuable in assessing their work quality and customer service level. Don't be afraid to follow up with contacts and ask detailed questions about their experience working with the company.
3. Can You Demonstrate Relatable Work Experience?
Experience is a vital factor to consider when choosing a landscaping company. Be sure to ask whether each company can demonstrate or otherwise prove they have relatable work experience.
What is their work history like? (i.e., projects completed, project types, and project size)
Do they have a portfolio of completed projects?
Do they have a list of satisfied clients that you can contact?
A company with experience in your specific project can help them navigate any unique challenges that may arise. Additionally, you can ask to see photos or examples of similar projects they have completed.
4. What Is Your Timeline for Completing the Project?
When considering a landscaping project, it is essential to establish a clear timeline for completion. This will help you and the landscaping team coordinate efforts effectively and avoid potential delays.
A well-defined schedule allows for proper budgeting and ensures all parties expectations are aligned. Discuss the desired timeline during initial consultations and regularly review progress throughout the project to ensure milestones are met and any adjustments are made promptly.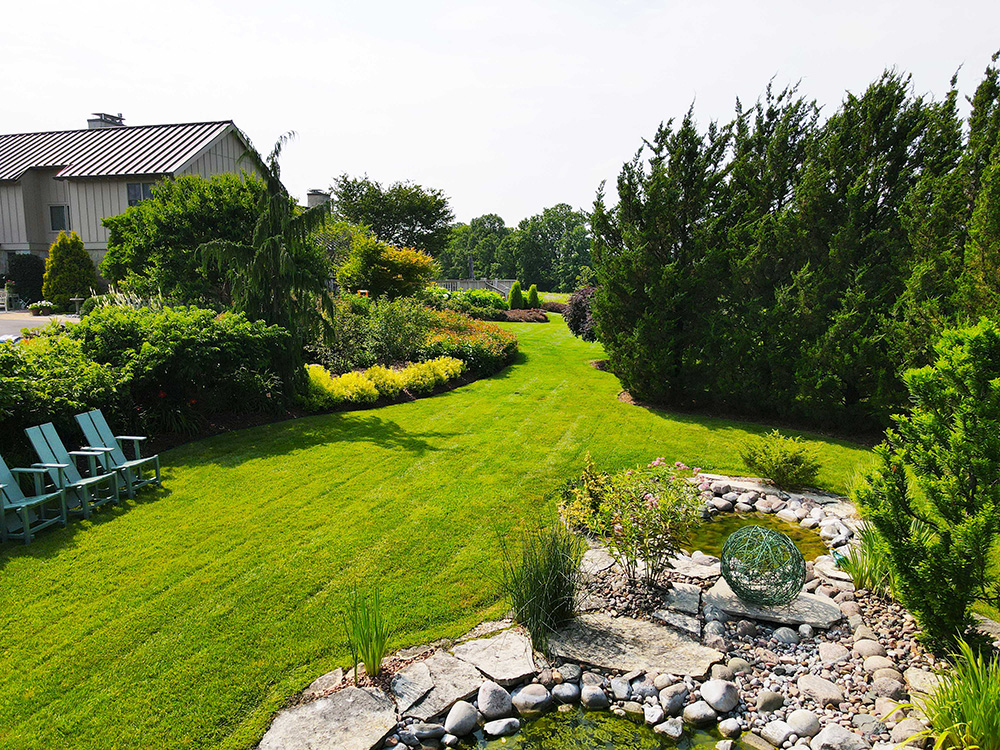 5. Do You Offer Maintenance Services after the Project Is Completed?
Choosing a company that offers maintenance services can ensure your outdoor space looks beautiful and well-maintained for years. You should inquire whether the company offers maintenance services post-project completion. This may include regular lawn care, tree trimming, or other ongoing maintenance tasks.
Additional Factors to Consider
With a little research and planning, finding the best landscaping company in Milwaukee for your project will be a breeze. You can narrow down your list of potential landscaping companies by addressing the questions and factors above.
Want to further refine your search for the best landscaping companies in Milwaukee? Then you'll want to check out these additional considerations:
Communication
Good communication is key when working with a landscaping company. A company that communicates well will help ensure that your project runs smoothly and that you're satisfied with the end result.
"The achievements of an organization are the results of the combined effort of each individual." – Vince Lombardi.
Open communication between you and your landscaping company will ensure that your project runs smoothly – but it's vital to remember that communication is a two-way street. Make sure you choose a company that values communication and transparency.
Look for a contractor who is responsive to your questions and concerns and who provides regular updates on the progress of your project. This will ensure that your project runs smoothly from start to finish and that you are always in the loop!
Alternatively, ensure you are responsive to your landscaping company and provide them with any relevant information needed to complete the job. Your landscaping project needs to be seen as a group endeavor, with both parties working together to reach a common goal.
Materials and Equipment
The materials and equipment used by a landscaping company can greatly impact the quality of their work. Look for a company that uses high-quality materials and modern equipment. This will help ensure that your project is completed efficiently and to a high standard.
Their Design Process
Whether you're looking for a sleek and modern look or a cozy and rustic feel, your contractor should be able to bring your dream to life! Don't settle for a cookie-cutter design! Look for a company that takes the time to understand your unique vision and works with you to create a custom design that perfectly meets your needs.
The best way to do this is by asking for a consultation with your top candidates. This will allow you to get a feel for how they work and whether or not you're a good fit. You'll be able to discuss your preferences and requirements and inquire into the process and tools they use to help you see their vision for your project.
Sustainability
Sustainability is an increasingly important consideration in landscaping. A sustainable approach to landscaping will benefit the environment and save you money on maintenance costs in the long run. Look for a company that prioritizes sustainability and eco-friendliness in its work. This may include using native plants, minimizing water usage with a rain garden, and reducing waste.
Warranty
Finally, make sure that any landscaping company you hire offers a warranty on their work. Although varying across different providers, a landscaping warranty typically comprises several key elements to ensure customer satisfaction and confidence in the work performed.
Primarily, these warranties cover labor and materials for a specified period. Additionally, they may encompass plant replacement guarantees, coverage for hardscape or irrigation system components, and dedicated support for maintenance-related concerns. Check your contract for specific warranty details.
When Choosing Landscaping Companies in Milwaukee, Trust American Landscape
When looking for the best landscape companies in Milwaukee, thoroughly research before hiring. Ensuring your landscaping company fits your needs will give you quality results. You'll find a company that will become a long-term partner in your landscaping needs.
American Landscape is a full-service landscape company offering various services to meet the needs of residential and commercial customers in the greater Milwaukee area. With a proven track record of quality work backed by our local clientele and being awarded over 20 accolades in the last three years, you can trust us to exceed your expectations.
Ready to get started? Contact American Landscape today!
https://amerlandscape.com/wp-content/uploads/hiring-a-landscaper-in-milwaukee.png
400
800
Justin
https://amerlandscape.com/wp-content/uploads/2023/03/american-landscape-50-years-logo-300x138.png
Justin
2023-03-31 22:49:13
2023-05-02 20:53:47
What to Ask When Looking for Landscape Companies in Milwaukee