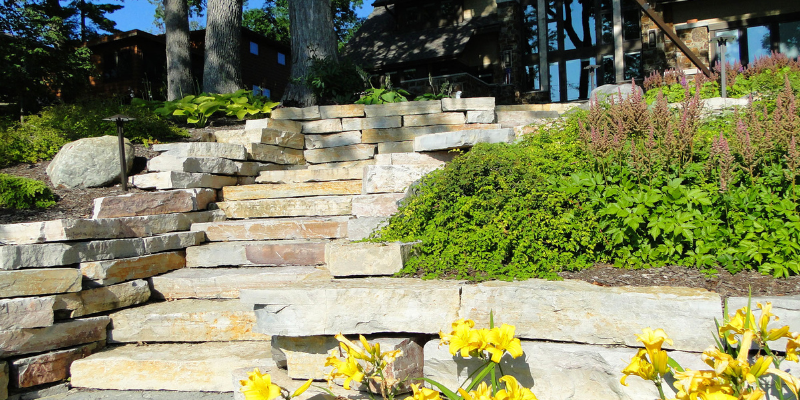 How to Achieve an Alpine Landscaping Style
The Alpine Landscaping Style was originally inspired by the mountainous vistas of the European Alps. In the United States, we tend to think of areas that are characterized by sloped terrain, rocky landscapes and dry, well-drained soil. People who live in these areas appreciate the outdoors and prioritize developing spaces for outdoor living. In some ways, the Alpine Landscaping Style overlaps with the Rustic Landscaping Style simply because of our local geography.
Alpine settlers developed their landscapes using the natural features and products available to them. They were surrounded by rock formations, wooded hillsides, tumbling terrain. Bringing this to the modern landscape involves using natural stone materials for paving and walls. Wooden chairs, benches, and structures are used to complete the look.
Alpine Landscaping Style Plantings
Specialty Evergreens
Poplars/Aspens/Birch
Native shrubs
Native perennials
Hardscapes and Elements in the Alpine Landscaping Style
Outcropping & boulders
Natural stone water features
Cedar pavilions & furniture
Steel fire pits
American Landscape's expert design team can help you achieve whatever your preferred landscaping style might be, including the Alpine Landscaping Style. Reach out today to start on the path to your dream landscape!
https://amerlandscape.com/wp-content/uploads/Alpine-Landscaping-Style-1.png
400
800
American Landscape
https://amerlandscape.com/wp-content/uploads/2023/03/american-landscape-50-years-logo-300x138.png
American Landscape
2023-04-12 19:19:12
2023-05-02 20:53:47
How to Achieve an Alpine Landscaping Style