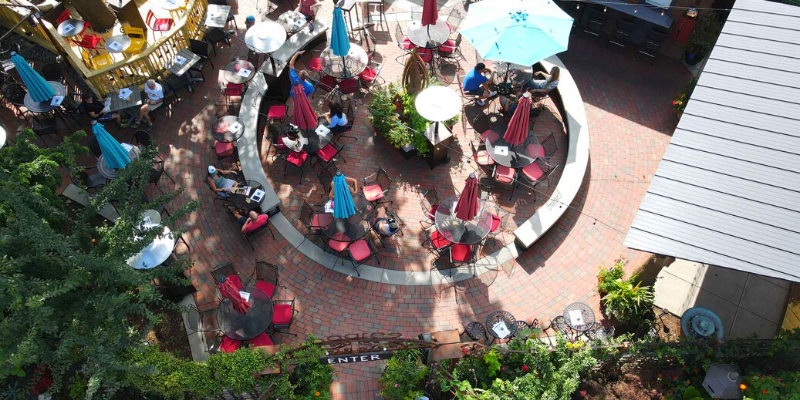 Creating a Dancer-Friendly Patio with Edible Gardens at the baaree
If you have had the pleasure of stopping into the baaree in Thiensville, you have no doubt noticed their amazing outdoor space. It is a respite from the bustle of everyday life. A spot to relax and enjoy live music, while surrounded by a variety of edible garden areas. It suits the baaree, which gets its name from a Nepalese word which means "garden."  The space is a hybrid concept that brings together aspects of a traditional German beer garden with elements of a community garden. We were thrilled to help them bring this concept to life.
Landscape Design Delivers "Must Haves"
The baaree beer garden patio project had a few "must haves." We were charged with creating an inviting outdoor hospitality space with a solid surface to dance to live music. Keeping the need for upkeep and ongoing maintenance minimal was also key. The timeline called for completing the garden in time for patrons to enjoy it starting in spring.
Selection of patio materials was guided by a need to stay within budget and ensure that whatever was selected could be readily obtained. The clay pavers we chose married the existing arts and crafts architecture of the restaurant to the gardens.  We carefully placed patterns to encourage flow and highlight focal points of interest, like the stage and bar.
Sustainable & Edible Gardens
Adding to the ambiance, functionality and sustainability are the multiple garden areas that flank the patio space. This edible landscape includes hops (the same used in Schlitz original brew, that made Milwaukee famous!), blueberry shrubs, a variety of peppers, pole beans, and even a plum tree. All of these ingredients make their way into the food prepared at the baaree! Adding to the sustainability is that the patio is pitched so that water sheet drains into the gardens, minimizing stormwater runoff and providing hydration for the plants.
You can hear from Katie Jean Fedorski, Landscape Designer in this video walkthrough of the project:
Whether you are looking to transform your own backyard or a commercial space, our landscape designers are ready to help you make your dreams a reality.  Get in touch today. www.amerlandscape.com/contact.
https://amerlandscape.com/wp-content/uploads/A-Dancer-Friendly-Patio-with-Edible-Gardens.png
400
800
Mary Monday
https://amerlandscape.com/wp-content/uploads/2023/03/american-landscape-50-years-logo-300x138.png
Mary Monday
2023-06-01 18:02:52
2023-06-01 18:02:52
Creating a Dancer-Friendly Patio with Edible Gardens at the baaree