The Best Milwaukee Landscape Design Trends For 2018
With a new year upon us, we took some time to research 2018 Milwaukee landscape and design trends. And our top five picks are intended to bring both style and serenity to your home.
We noticed one very strong theme in all our research, and it may not come as a much of a surprise to you, considering many of us are simply looking for a little bit of respite. Next year, even landscaping and design trends are going to lean hard into peace and tranquility.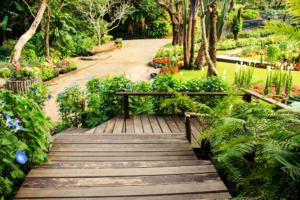 So, let's raise a glass to that: May 2018 be our year of peace, even along our garden paths. Here's a look at some of the best ideas to help you get there.
Forest Bathing
Japanese gardens often provide the greatest levels of tranquility. You can all but feel the peace humming through the air. And, in 2018, many Americans will be embracing shinrin-yoku, or forest bathing. That simply means going for a walk in the forest to bathe yourself in soft streams of sunlight and nature's sweet embrace.
At your Milwaukee home, this could mean planting thick rows of trees, shrubs, and flowers along a gorgeous stone path. Maybe you'll even add a jewel to this crown in the form of a small, arched bridge.
Zen Garden
One of our favorite design trends that is coming in strong in 2018 is the zen garden. So, guess where your forest bathing could take you: To a small zen space that leads to a relaxing water feature. A zen garden typically boasts smooth stones and a gorgeous array of sweet succulents.
Can you imagine a mini-waterfall at the end of your shinrin-yoku? Your morning routines could morph from huge gulps of coffee to huge gulps of fresh morning air.
Meditation Garden
If this is where 2018 is headed, we're totally on board. What do you say we let 2018 be our best year yet?
A meditation garden could help each of us embrace the fine art of simplicity. Perhaps you'll put your meditation garden beside your zen garden. All you'll need is a gorgeous stone bench and some soft, ornamental grass to sway softly in the breeze.
If your early mornings are going to include some mind-changing meditation, you might want to face your garden east so you can drink in the morning light.
Grow Your Own Protein
What goes hand in hand with a healthy mind? A healthy body! And we can help you get there with your very own protein-based garden. This includes edamame, broccoli, spinach, kale, quinoa, and more.
And while you're focusing on your proteins, why not round this all out with a full-scale vegetable garden? If organic is key, why not entrust this to your own two hands? Juicy tomatoes, cabbage, and plenty of herbs could be found right outside your own front door.
With a little design work and some careful planning, you can watch your very own garden spring to life.
Design Trends to Bring You Peace
We invite you to take a look at our design and construction process.
You'll see we specialize in softscapes for your shinrin-yoku, hardscapes for your meditation garden, and sustainable landscapes designed to bring synergy between your Milwaukee garden and available resources.
Even after the job is done, we'll still be posting resources for you, including our new tree, shrub, and perennial guide. So, give us a call today at 262-252-4260. We'll help you design your 2018 around waterfalls of peace and happiness.
https://amerlandscape.com/wp-content/uploads/2022/09/design-trends-1.jpeg
1333
2000
American Landscape
https://amerlandscape.com/wp-content/uploads/2023/03/american-landscape-50-years-logo-300x138.png
American Landscape
2018-01-15 10:32:28
2022-11-22 01:20:13
The Best Milwaukee Landscape Design Trends For 2018