Before & After: Patio/Fire Pit Installation Despite Cold Temps!
Given the challenging winter conditions we have in Wisconsin, knowing how to complete hardscape installations even as colder temperatures begin is key. We're sharing a behind-the-scenes look at the installation of a patio, walkway and fire pit for a client that we worked on well into January! The key for this installation was to lay frost blankets down on the work area well before frost and snow hardened the ground. Our team was able to complete almost all the installation and this client will now be top of the schedule for finishing off their project in spring.
You can watch our video of the project as it took shape, or read about the daily progress below.
Patio Installation: Day-by-Day Progress
Day 1
Orange frost blankets were placed weeks before the project was due to begin. Blankets had to be shoveled off, then lifted off the turf.  The area for the patio was then measured out and lines marked for crews to begin.
Day 2
Patio base excavation is completed and installation of the gravel patio base begins, along with the construction of the seat wall using Rosetta products.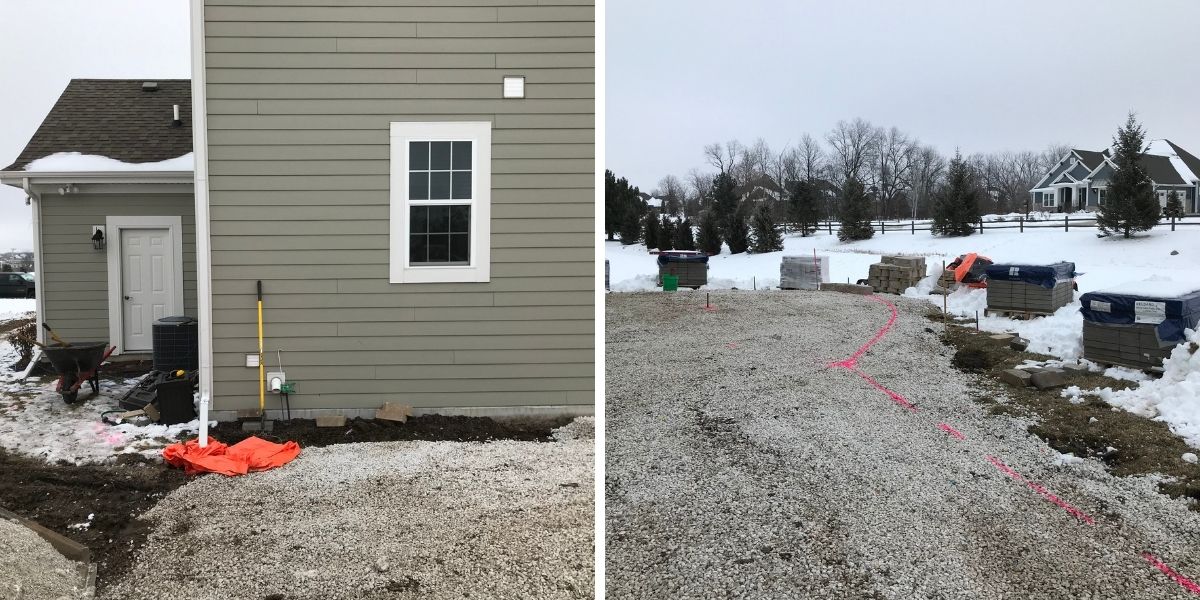 Day 3
Building of the wall continues and on the other end of the patio, laying the gravel base is finished up.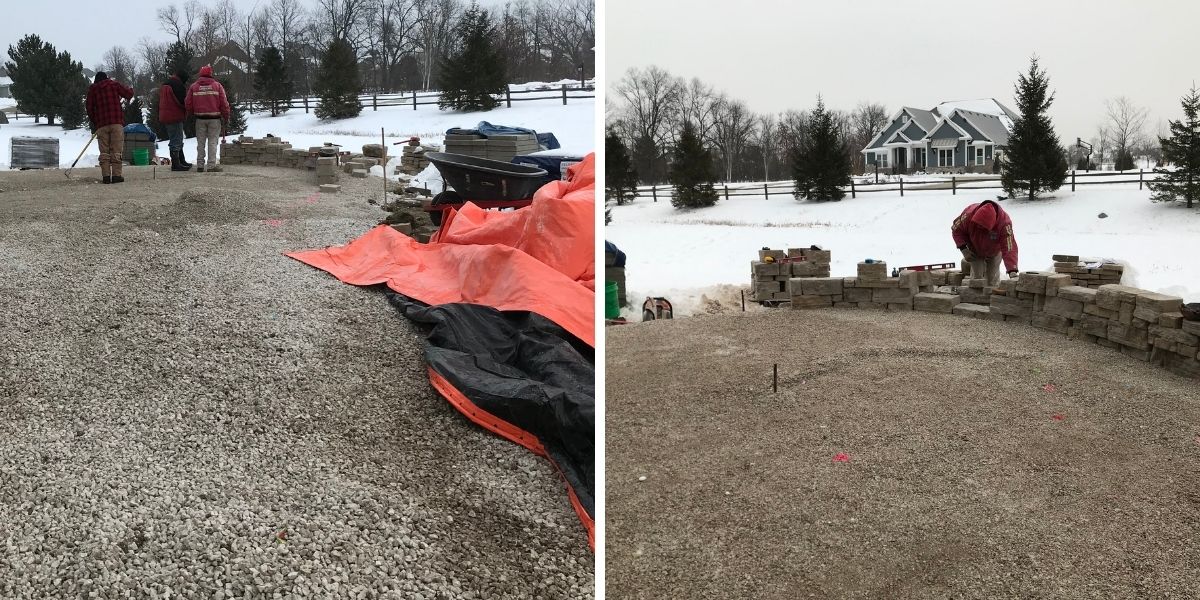 Day 4
You can see the project really taking shape! The wall has been completed and Belgard pavers are being installed.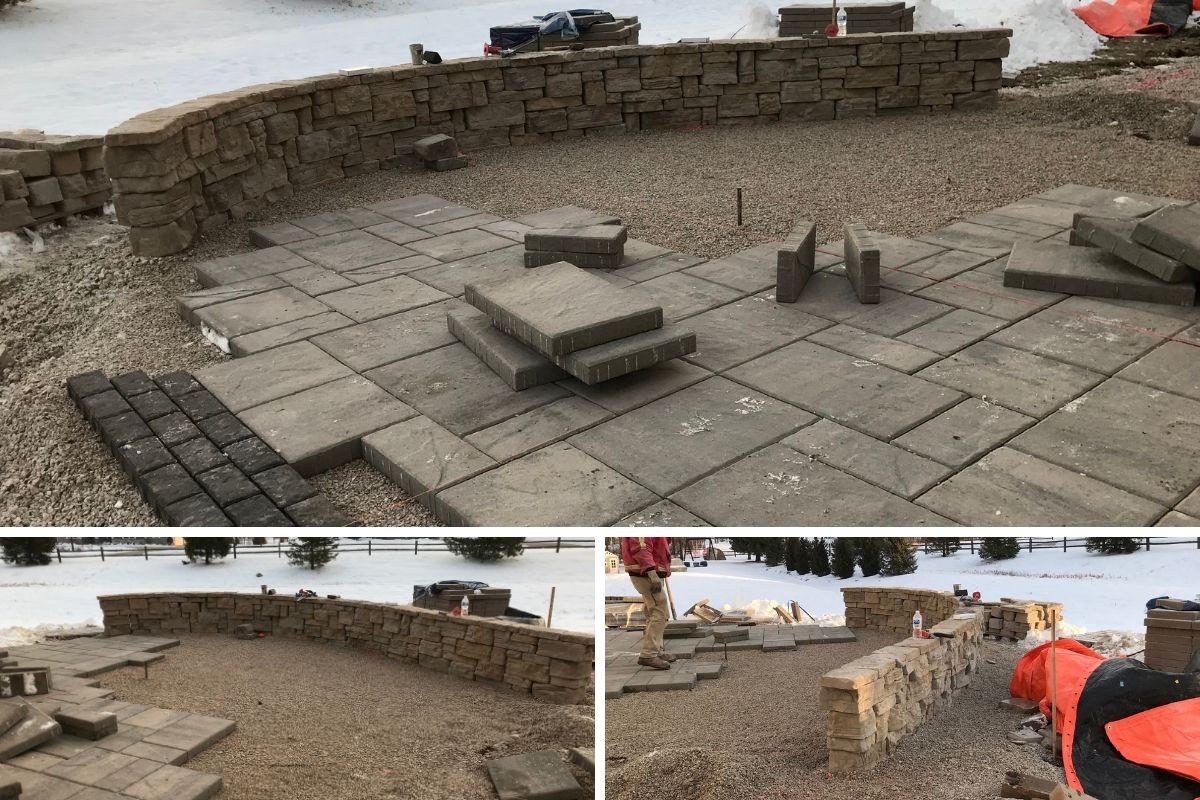 Day 5
The team continues laying pavers. Notice that any areas that are not being worked on are kept covered to protect the ground from freezing.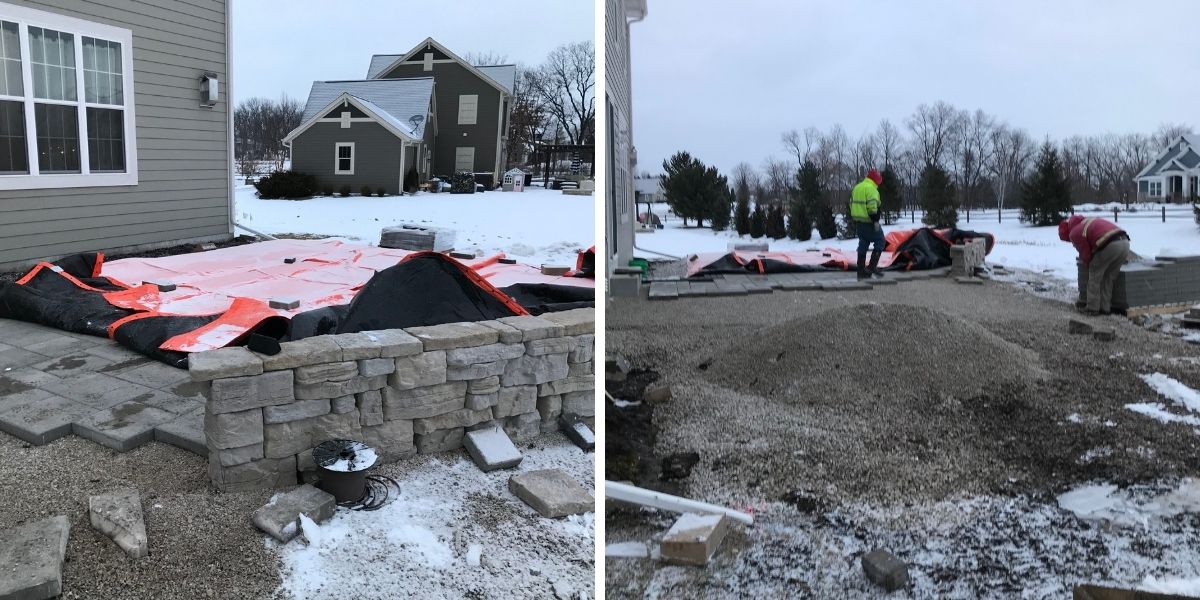 Day 6
The fire pit, using Rosetta products to match the seat wall is built. Work continues on leveling base and laying pavers.  In preparation for the installation of a pavilion in spring, the team inserts Sonotubes that will be filled with cement to create footings.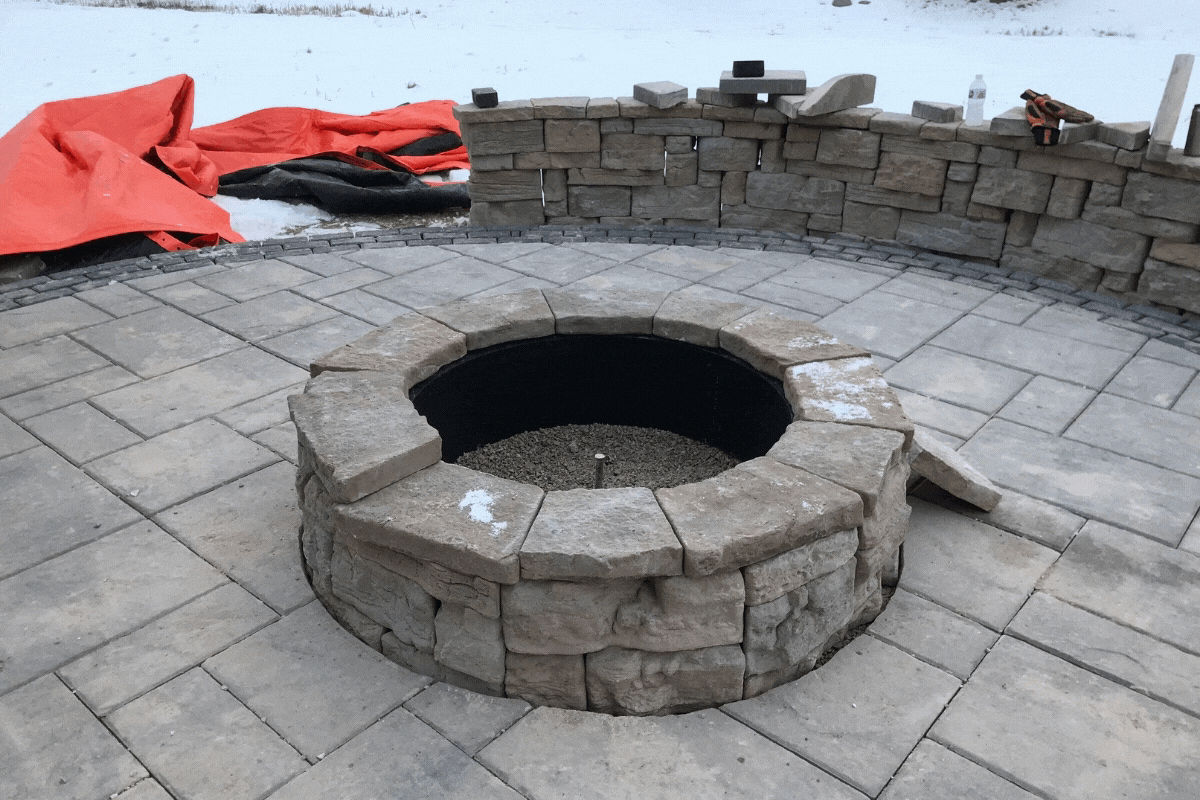 Day 7
Time to fill the Sonotubes with concrete! The last of the patio pavers are installed.  The team is careful to keep areas not being worked on covered so the project can keep progressing in the cold temps!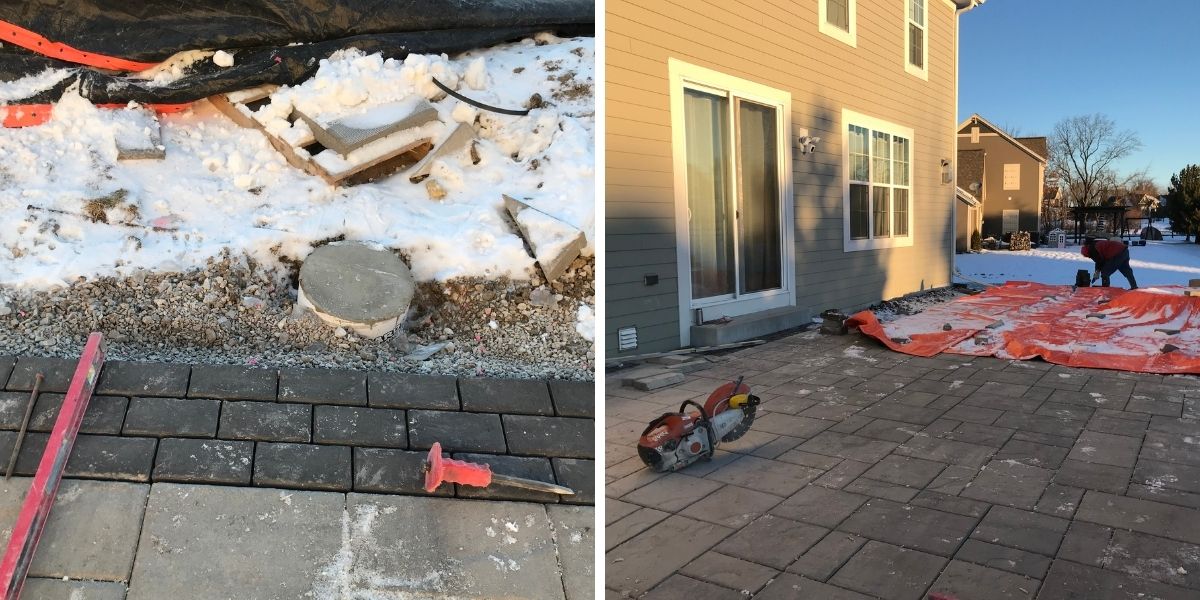 Day 8
Final day of this cold weather patio/firepit/walkway installation! The team used EdgeCrete to keep pavers in place and completed the walkway connecting the patio to the garage. The entire area was then cleaned and covered until work can resume in spring.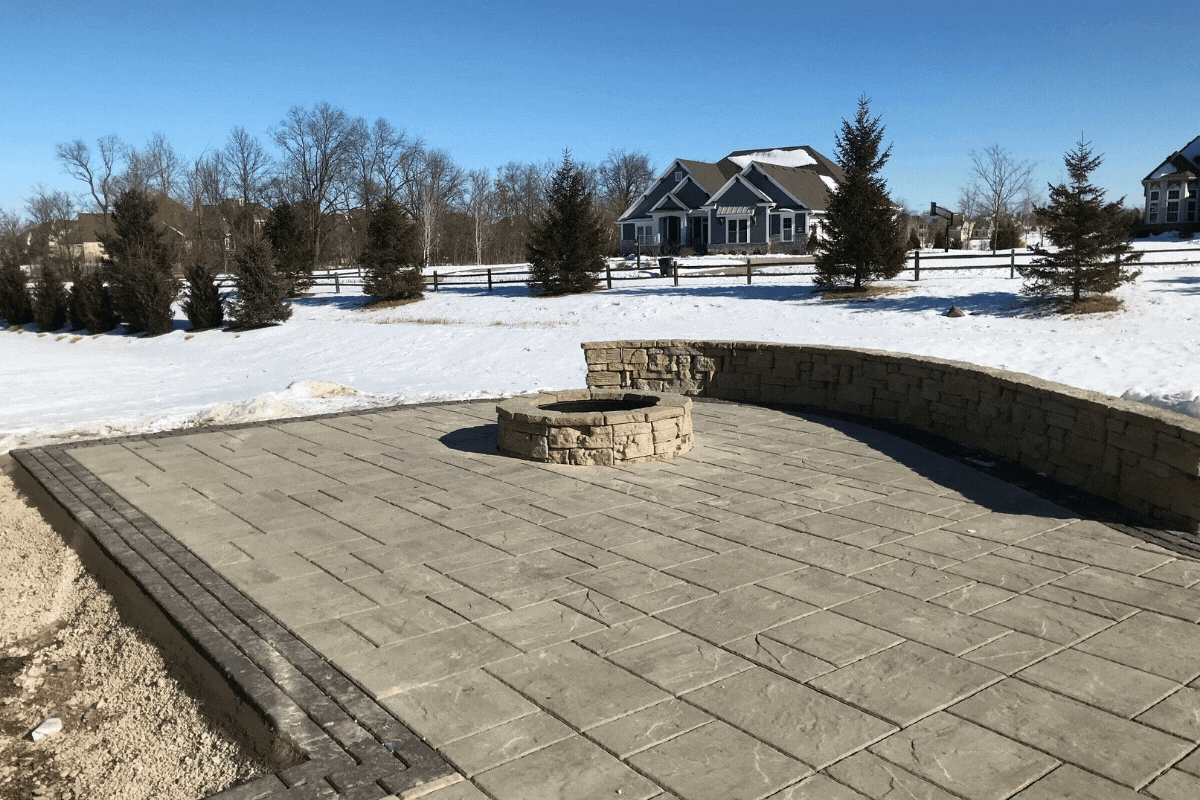 Extending the season for hardscape installations is one of the ways we deliver on our commitments to our customers. If you are ready to talk about your own landscaping project, get in touch with one of our talented designers today! (262) 252-4260
https://amerlandscape.com/wp-content/uploads/2022/09/Am-Land-Day-6-1.gif
800
1200
American Landscape
https://amerlandscape.com/wp-content/uploads/2023/03/american-landscape-50-years-logo-300x138.png
American Landscape
2021-02-24 16:20:54
2023-01-04 21:03:13
Before & After: Patio/Fire Pit Installation Despite Cold Temps!