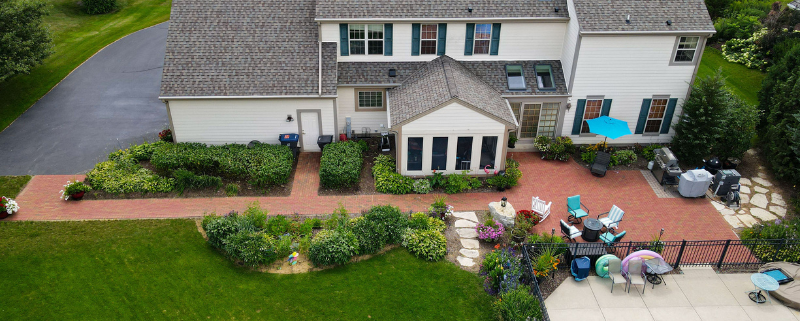 We're taking a look at what we expect to be the top  FIVE 2023 landscaping trends. Before you know it the growing season and hardscape construction season will be running full steam ahead and we want you to be on top of all the exciting landscaping happenings!
1)  Blurring the Line Between Indoor and Outdoor Spaces
The trend of creating fully-functional outdoor spaces is not new, but continues to explode in popularity. In 2023, we will see even more homeowners incorporating outdoor kitchens, grills, bars, sinks and refrigerators.  Interest in built-in patio planters to hold kitchen and herb gardens is also on the rise.  Providing shade through pergolas and extending the outdoor season through fire pits and other heating elements will be a landscaping goal for many this year.
2) Outdoor Lighting
Path lighting for safety, bistro lights for character, up-lighting for aesthetics…the choices of how you can use lighting in your landscape are endless. With new technology comes new products. LED fixtures and bulbs allow for an array of colors at your fingertips.  Bluetooth allows you to control it all with your phone.  Innovative new outdoor lighting designs and lights embedded into pavers and seat walls are cutting-edge and something you will see a lot of in 2023.
3) Rain Gardens
As development continues to expand and houses are built closer together, green space naturally shrinks. That means it is more important (and necessary!) than ever to find places for the rainwater to go. Rain gardens provide an attractive way to minimize that problem. You can read about the rain garden we installed at a commercial property in Delafield, Wisconsin.
4) Native Plants for Wildlife
It's a hot and necessary trend to provide welcoming and nurturing environments for birds and pollinators. Incorporating native plants and native cultivars into the landscape can reap huge rewards for the homeowner and the environment. Ornamental grasses and perennial seeds can increase the number of birds coming to the yard and designing eco-friendly landscapes is a growing request of our clients.  From full, certified monarch waystations to creating a special bed or area in the yard dedicated to bees, butterflies and birds, you have many choices in how to encourage more wildlife through your landscape planning.
5) Low Maintenance Landscaping
Most people with their busy lifestyles are not hardcore gardeners that enjoy spending hours each week maintaining their yard. Newer varieties of old favorites are now on the market that stay smaller (less pruning) and still bring impact to your yard. While all yards require some maintenance to keep up a polished appearance, a good landscape designer can help you create a plan that reduces the number of hours you spend working on your yard.
Landscaping Professionals
Our team has experience in executing all of these five landscaping trends. If you are ready to get started dreaming of your own landscaping project, now is the perfect time to work with our designers. Get your planning done now, so you can hit the ground running when the Wisconsin snow is gone and sunny days re-appear! Contact us here.
https://amerlandscape.com/wp-content/uploads/2023/02/2023-Landscaping-Trends.png
400
800
Mary Monday
https://amerlandscape.com/wp-content/uploads/2023/03/american-landscape-50-years-logo-300x138.png
Mary Monday
2023-02-02 16:47:41
2023-02-02 16:50:29
2023 Landscaping Trends